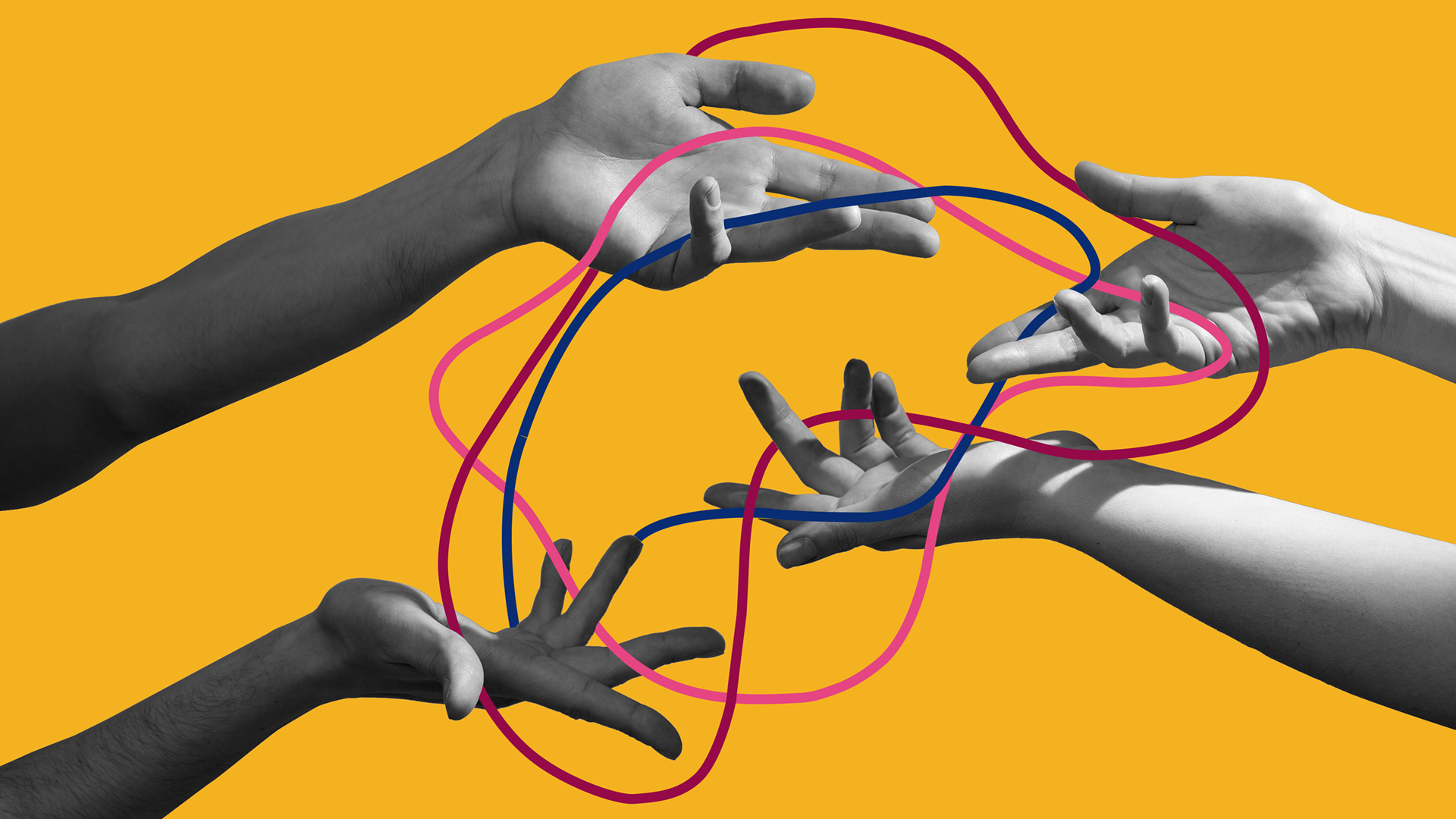 Listen: 14 best creative interview questions.
Finding great creative talent can be tricky. And finding great creative talent who also jibe with your company culture can be even trickier. Here are the 14 most critical qualitative creative interview questions, to understand how they work, what makes them tick, if they're right for you—and if you're right for them.
Keep in mind that quantitative questions are also essential to help mitigate unconscious bias during the hiring process. Happy hiring!
1. What will you miss about your current gig?
Once someone is on the hunt for a new job, it's usually easy for them to conjure up everything they hate about their current job.
Instead of going down Bad Memory Lane, ask candidates creative interview questions about the positive stuff instead. This gives you a good sense of what's important to your potential hire and whether it's something you can offer them at your company.
2. Have you worked directly with clients or customers?
Being awesome behind a monitor is one thing, but being awesome in front of real, live humans is a whole different thing.
Creatives who deal with customers or clients have a certain set of skills. Presenting, listening, and understanding client needs is an important skill to have in most industries.
In dealing with client and consumer feedback, creatives learn to develop persuasive arguments, pose creative questions, and sift through feedback for what they should or should not address.
Bonus tip: Feel free to pass these helpful networking techniques to your favorite creatives.
3. OK, WFH is a pressure cooker. How are you dealing?
Nothing about the current world of work is typical. But we can't ignore the very large elephant in the room. How people respond under pressure says more about their character than how they respond to a pat on the back.
Ask what techniques they use to stay calm, how stress has impacted their work, what their coworkers might say they are like to work with during these times.
Knowing how a candidate is capable of working in this new landscape, will help inform how that candidate will fit into your remote team.
4. What if people don't like something you made?
Creative people use their skills to make stuff all day, and they usually feel some sense of ownership over it.
Pride is good. Passion is good. But being defensive and not recognizing client needs is a definite dealbreaker.
Talk to them about how they handle negative feedback and ask for a specific example of how they turned the situation into a positive one.
A candidate's ability to work through negative feedback in a positive way, says a lot about how they may or may not thrive on your team.
5. What's the last thing you learned?
You want the go-getters. Overachievers. Never settlers. These kinds of people are always learning. Because they know knowledge is power.
Did a developer learn a new programming language?
Did a designer learn how to code?
Did a Creative Director learn project management?
The point is, you want your team to be hungry and to be curious. Asking these type of creative interview questions will give you insight into how candidates approach tasks outside work hours and thus help paint for your team a fuller picture of them as professionals.
6. What do you think of our brand/site/marketing materials?
You'd be hard-pressed to find a creative out there who doesn't think they could improve on even the most iconic brand.
This creative interview question requires a delicate balance, though— the thought process here is that you want their honest answer, but you also want them to be respectful and professional. This one's as much about how they answer as what.
Hiring managers need to consider how candidates will fit into their existing team. You should welcome feedback about your established brand, but also take time to understand a candidate's ability to integrate into your team's vision.
7. How will your creativity make our company better?
Creative folks often have a lot of hidden skills and talents up their artistic sleeves.
You might find someone who could illustrate a mural for the office (if we ever get back to the office) or create cool Zoom backgrounds, at least. Maybe they created a filing system that simplified life at their last job or will offer to hold a virtual fiction-writing workshop.
You want to find people who are invested.
8. Tell me about a time you screwed up.
It's not about how many times we fall down, but how many times we get up, right?
Talk to your interviewee about a time when they made a mistake. This is similar to the interview questions around, "What is your greatest weakness?" but taps into a particular time a candidate may have made a mistake.
What was the situation?
How do they describe their role in it?
Is there a sense of responsibility there?
If they received negative feedback, how did they handle it?
What did they learn from it?
These answers can reveal a lot about their character and their ability to grow from trying times.
9. What is success for you?
This one really gets into their psyche! This one is similar to the interview questions around, "What is your biggest achievement?"
When determining the right fit for your team, it's helpful to know how a person defines success.
Is their goal entirely personal?
Would they need others to reach it?
Does it involve a greater purpose?
Is it monetary?
Is it title-based?
Is it something they can achieve at your company?
What qualities can this person add to your company culture?
It is important to remember that in order to keep your team motivated and creative work flowing (especially when building an effective remote team), it is important to understand everyone's goals. Does the candidate define success in the same way. Does their form of success align with the company's goals?
Remember, the interview is as much about them seeing if you're the right fit as it is seeing if they are right for you.
10. When do you feel most creative?
Ask your candidate for honest answers to the creative interview question, "When do you feel most creative?" A candidate's answer will help you develop a solid understanding of whether or not your position is the right fit.
Creatives are often in the jobs they are in because it is scratching their creative itch in some way. Part of your job is doing everything you can to foster that creative side.
So, pay attention to what they say here. Maybe it's more of a freeform schedule. It could be time to be doing creative projects outside of work or having regular meetings with other creatives.
These insights may inform how you structure your team or extras you may be able to offer in the future.
11. What brands do you admire?
You want people who are interested in their field. And for creatives, that's checking out how brands do things.
For a writer, for example, maybe it's a brand with a very strong messaging platform, like Patagonia. A marketer might love how Glossier basically grew a brand on Instagram. A designer might be drooling over Spotify. A developer may tell you about a site that's coded in a way they'd never seen before.
Ask, "What current trends are your favorite brands activating on?" The creative world is vast and ever-evolving. Candidates who stay up to date with current trends can help spark new ideas for your creative team.
On a basic level, it's also a chance to assess taste. Do you also like these brands? If not, that's something to think about.
12. Ok, show me what you've done.
It's the most obvious question when assessing creatives. But as you walk through the eye candy, think about the substance behind it too.
Sure, you want to see their beautiful layouts, work samples or code examples, but you want to know how they got there:
What role did they play?
Who came up with the concept?
Are they more ideas or more execution?
Did they meet the deadline?
Are they methodical?
A free spirit?
In short, you want to like their work samples, but you also want to like how they work.
13. Insert very technical question here.
This question will vary depending on who you're hiring.
Need a developer? Throw a technical problem at them in JavaScript and ask how they would attack it.
Looking for a web designer? Ask them to put Sketch and InDesign in a battle to the death.
Want a marketing guru? Tell them to talk about the best software they used to map a campaign.
Need a creative director? Ask, "As a creative director, what's your management style?"
If you're not sure of the nitty-gritty questions to ask, get someone on your team with in-depth knowledge to help you out.
14. Do you have any questions for me?
An oldie but a goodie.
A smart interviewee has learned more about your company from the questions you just asked than from anything they Googled ahead of time. So, tell them it's their turn to do the asking. You'll learn a lot about them from what's on their mind right then.
Most candidates know this question is coming. The best candidates have a solid understanding of how to answer it.
Creative interview questions in summary
Searching for and finding the right person for the job is, in fact, a job in and of itself. Not to mention how time-intensive an interview is. Hiring managers can use these interview questions as a guide to help make hiring decisions more methodical.
Additional Resources
Did you find the tips and strategies in this article helpful? Learn more expert tips from our expert team of recruiters by visiting these resources:
Need a hand hiring?
Searching for your next creative director or graphic designer does not have to be rocket science. Give us a shout if you'd like help bringing in fully vetted talent candidate—contact us here, or call (617) 535-5000.
---
Related